PITTSBURGH—In 1919, thirty-one-year-old Helen Clay Frick inherited $38 million from her father Henry Clay Frick, becoming the richest unmarried woman in America. These riches, however, came at a price, paid over the ensuing years, when devoted to perpetuating her father's legacy. Helen's great-niece, Martha Frick Symington Sanger, offers an unprecedented look into Helen's controversial personal life and philanthropic struggles in Helen Clay Frick: Bittersweet Heiress.

Through extensive period research, singular access to Frick family archives, and Helen's personal writings, Sanger fashions a multifaceted portrait of a complex, private, often misunderstood, yet indomitable humanitarian and cultural force in twentieth-century America.

Marred by the deaths of two siblings in one year, the near-deaths of her parents that same year, and by a protracted father-daughter relationship of seeming mutual fondness and worship, Helen, who feared disappointing her father, earned a reputation as an eccentric maiden lady in love with him, dedicated only to continuing his passion for art, architecture and philanthropy. "In this biography, I've taken Helen beyond that reputation, from beneath her father's shadow into the full light of her own achievements," Sanger said.

Amazed at what Helen was able to accomplish in spite of tremendous obstacles, "Helen Clay Frick was an heiress of deep compassion and unwavering conviction, who forged ahead in the male-dominated society present during her life in both Pittsburgh and New York," Sanger states. "She built a luminous legacy through her lifelong commitment to social welfare, the environment, and a supreme devotion to the visual arts."

The book features many unpublished photographs of the Frick family and their travels, reproductions of paintings in the Frick Collection purchased at Helen Frick's urging as head of the collection's acquisition committee and paintings in the Frick Art Museum purchased initially for Ms. Frick's private collection and for the University of Pittsburgh teaching collection and now incorporated into the collection she developed for the Frick Art Museum.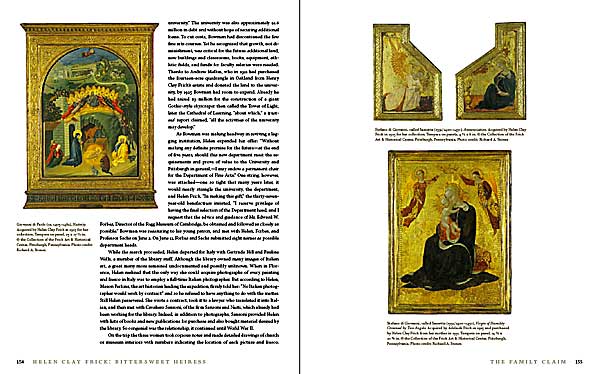 Thousands were touched by Helen's philanthropy. Her generosity included a vacation home for young female textile workers, two wildlife preserves, one being a public wilderness park inside a city limit, a Victorian-era house museum, and a pre-Civil War historic Mennonite village. Through valiant struggles, Helen championed her art historical philanthropy as she wished, by founding a university fine arts department, two art history libraries, and collecting for her private collection, as well as for the Frick Collection in New York, the University of Pittsburgh teaching collection, and the Frick Art Museum at the Frick Art and Historical Center.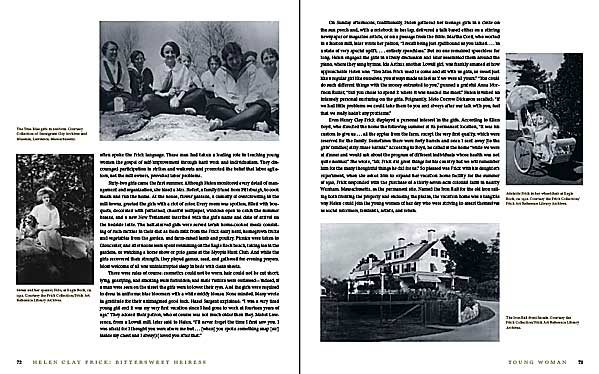 "With studious care, Martha Sanger portrays the life of her resolute great-aunt, whose qualities and disappointments, especially at the end of her life, make a lasting impression."
–Everett Fahy, former director of the Frick Collection, current John Pope-Hennessy Chairman, European Paintings Department, The Metropolitan Museum of Art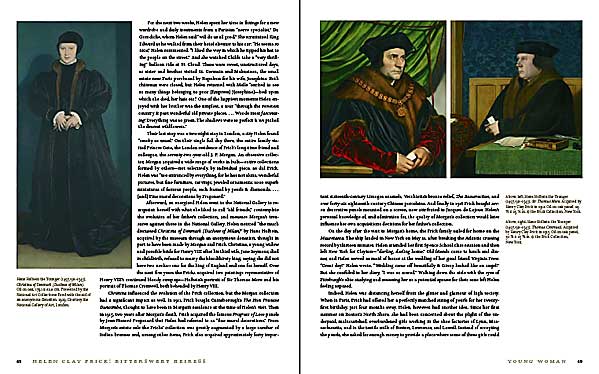 "This exhaustively researched and beautifully written work finally brings Helen Frick out from under the shadow of her father and recognizes her contribution to art collecting, photo archiving, cataloguing, war relief, and women's charities. Sanger adds immeasurably to our knowledge about the private and public lives of elite women in America, philanthropy, family dynamics, and the politicking that takes place behind the closed doors of museum boardrooms."
–Dianne Sachko Macleod, author of Enchanted Lives, Enchanted Objects: American Women Collectors and the Making of Culture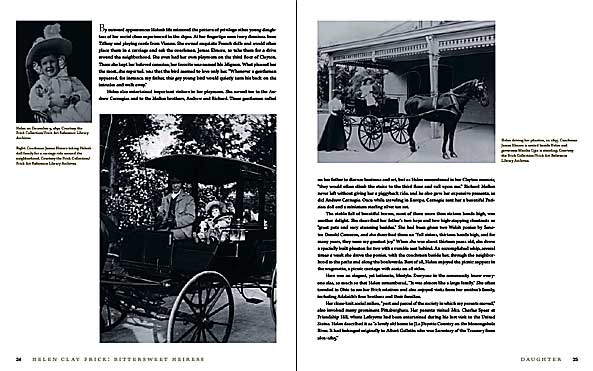 "The daughter of one of Pittsburgh's steel magnates, Helen Clay Frick left her own legacy of philanthropy, nationally, in the art world and in the lives of working-class women. This biography is a valuable contribution to women's history, adding especially to the literature on women's philanthropy during the first three quarters of the twentieth century."
–Carolyn Carson, University of Pittsburgh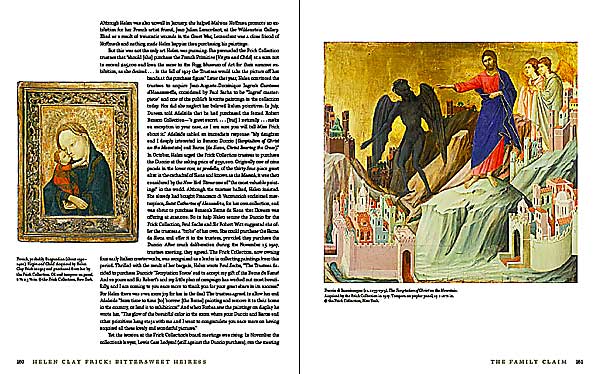 "This brilliant book reveals as never before the extraordinary life of Helen Clay Frick, one of the twentieth century's most powerful, elusive and sometimes vindictive women. Her great-niece has closely examined private family records, museum archives, and many published accounts of events with her characteristic openness to the truth. She has brought to light an amazing range of fascinating issues and events and explains many of Helen Frick's attitudes that have long perplexed her friends, foes, and the curious."
–Donald Miller, former art and architecture critic, Pittsburgh Post-Gazette